Vesak 2017 Message from PM Malcolm Turnbull
Sunday, 21 May 2017 08:42
Vesak Day recognised at Federal Parliament
Thursday, 11 May 2017 11:34
Vesak for the first time was celebrated at the Parliament House Canberra on 10 May 2017. It was hosted by Senator the Hon. Zed Seleja Asst Minister for Multicultural Interests. Sen. Seselja read out the Vesak message by the Prime M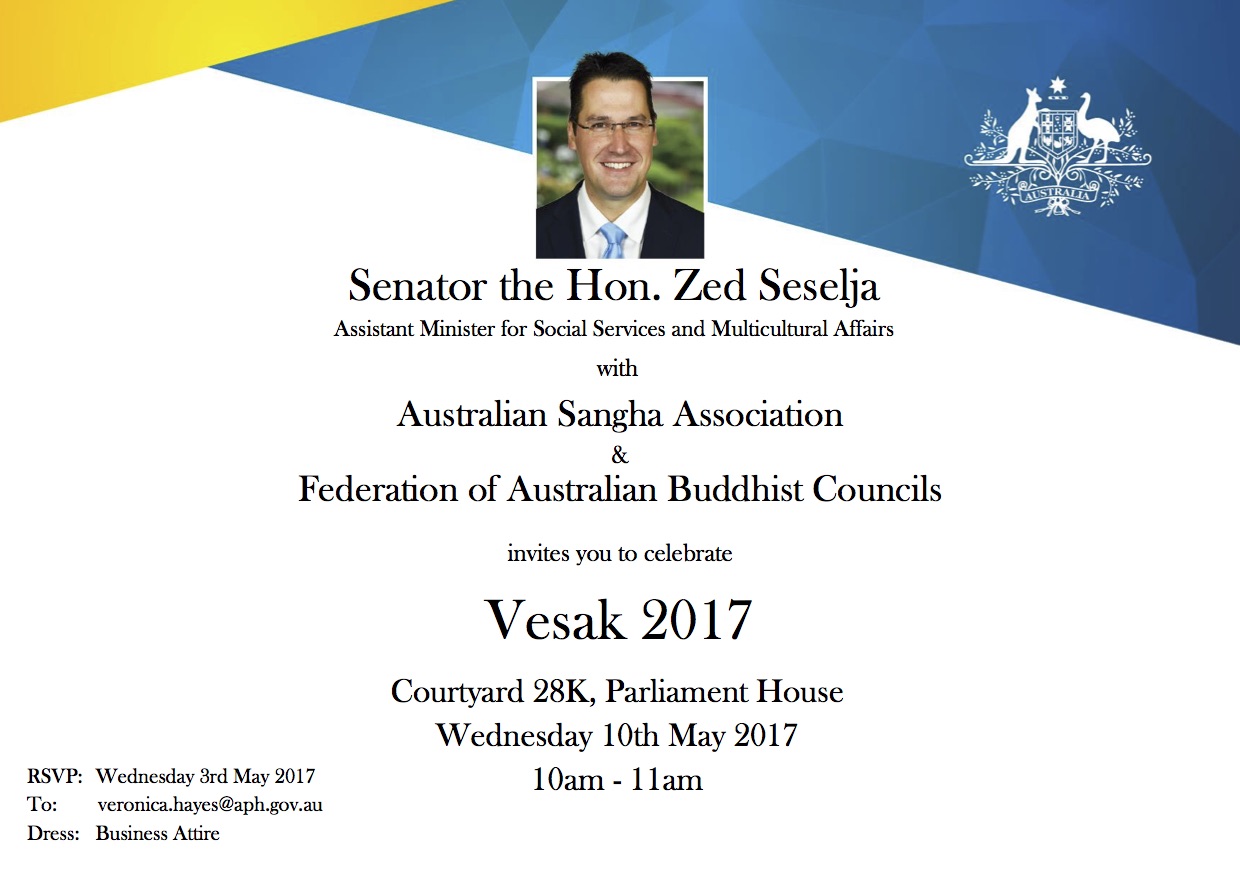 inister Malcolm Turnbull. This was followed by a speech by Ajahn Brahm representing the Australian Sangha Association. Ms Cecilia Mitra, spoke on behalf of the Federation of Australian Buddhist Councils.
Please share the video on your own websites. Thank-you.
Vesak 2017 Celebrations in Western Australia
Monday, 08 May 2017 12:11
This year we feature some photos and videos of activities that were held in April and May of this year in Perth, Western Australia by various Buddhist organisations in Perth.
Faith leaders call for stop to Galilee Basin coal
Monday, 01 May 2017 20:34

Federal government support for the Adani Group's proposed Carmichael coalmine is the target of an open letter released today, signed by prominent leaders from Australia's faith communities, including Uniting Church, Buddhists, Quakers and Catholic.
Dear Minister Frydenberg
As leaders in our diverse faith traditions, we feel compelled to challenge those responsible for Australia's current climate and energy policies. In particular, we declare the proposal to provide public money to fund mining infrastructure in the Galilee Basin to be morally wrong.
The reality of human-caused climate change is settled science. Now it is time for action. We believe that people of goodwill must work together to reduce greenhouse gas emissions as a matter of emergency, and to prepare for the inevitable consequences of the climate disruption already caused by earlier decisions.
BCV 20th Anniversary Celebration on Saturday March 25th, 2017
Thursday, 06 April 2017 21:46
Australian Sangha Association AGM
Tuesday, 14 March 2017 18:51
2017 ASA Con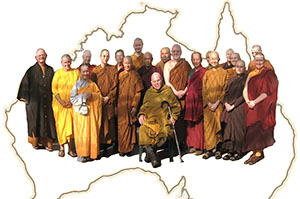 ference and AGM will be held in Canberra on March 14 and 15. The Venerable Thich Quang Ba will be hosting the Conference at the Sakyamuni Buddhist Centre, in Lyneham ACT.
March 14: The presenters are Lifeline, DonateLife and Pallcare ACT.
March 15: An alms round will depart and return to Sakyamuni Buddhist Centre.
The current committee members would like to invite monastics to consider a place on the ASA committee as there will be opportunities available for the coming year.
For more info click here.
Senate Inquiry on the Government's Exposure Draft of the Marriage Amendment Bill

Tuesday, 07 February 2017 20:53

Federation of Australian Buddhist Councils (FABC)'s Submission


The Buddhist position on gender quality and same sex marriage

In Buddhist traditions, there is no fixed or mandated form of marriage and from a Buddhist point of view there is no such thing as a single fixed, natural, or pre-ordained form of marriage.

Buddhist texts do not contain prohibitions on same-sex marriage. Nor do they contain anti-LGBTQ views.

Our principles are guided by wisdom and compassion, and our concern here is for the alleviating of suffering of marginalized people. The empirical evidence strongly supports the contention that ending the ban on same-sex marriage creates a positive outcome for LGBTQ people

The FABC position on the Bill

We welcome and support the Bill introducing Civil Marriage equality in Australia. We applaud the government for this Bill however we humbly ask for the deletion of S 47A of the Bill.

Ideally, no Marriage Celebrant under the Civil Marriage Act should be entitled to refuse to solemnise a marriage against a person's sexual orientation. This would be legalised discrimination. However, we understand the need to protect religious freedoms and for that reason, we are agreeable to Religious Marriage Celebrants being legally entitled to refuse to solemnise a marriage based on the celebrant's conscientious or religious beliefs. However, it is our view that this right should not extend to Civil Marriage celebrants.

In our view, Civil Marriage Celebrants should not be empowered by the law to discriminate against the LGBTIQ community. We believe that one of the purposes of the law is to protect and strengthen the whole community. Imagine how it would feel to be told that a civil service is being legally denied to you only on the basis of personal prejudice against you. That would be bring much unnecessary harm and is unacceptable from a Buddhist standpoint

For the reasons above, a deletion of Section 47A of the Bill is necessary.

 

Yours faithfully,

Cecilia Mitra LLB hons (Singapore LLM (UWA)

President
Federation of Australian Buddhist Councils (FABC)

Note: You can view the Submission on the Parliament of Australia website by clicking here (page 4, number 78)

Christmas Greetings

Wednesday, 21 December 2016 16:19

We take this opportunity to wish everyone a Happy and Peaceful Christmas and New Year.

We look forward to more dialogue and working together with the government and the different faith groups in harmony.

May all be well and happy!

Buddhism Teachers Struggling to Keep Up with Demand from State Schools

Saturday, 17 December 2016 19:35

By Samantha Turnbull (ABC North Coast) | Dec 2016:

New South Wales public schools are struggling to keep up with demand for Buddhism scripture teachers.

Buddhist Council of New South Wales chairman Brian White said there were more than 3,000 public school students across the state studying Buddhism, and the number was growing rapidly.

"It's driven by a few things — general raising of awareness in meditation right across society and how beneficial that can be, and the realisation that even six and seven-year-olds can meditate for a few minutes and benefit from that," Mr White said.

Audio: High demand for Buddhism scripture classes (ABC News)

Statement on Racial Discrimination Act (Section 18C)

Saturday, 10 December 2016 21:27

The Federation of Australian Buddhist Councils (FABC)'s Statement on the proposed change to Section 18C of the Racial Discrimination Act (RDA)

The FABC does not support any change to Section18C of the RDA.

The FABC supports right speech which is part of the teachings of the Buddha.

The FABC is of the view that there should be a balance between freedom of expression and the freedom to be protected from speech which offends, insults, humiliates or intimidates someone because of his or her race.

No freedom is absolute and the freedom of expression should not override the freedom to be protected from racially offensive behaviour.

The FABC is of the view that the section18C in its current form read together with section 18D provides the right balance.

Section 18C makes it unlawful to do an act which is reasonably likely, in all the circumstances, to 'offend, insult, humiliate or intimidate' someone because of his or her race.  

Section18D protects any fair comment or reporting on a matter of public interest, and any sentiment expressed 'in the course of any statement, publication, discussion or debate made or held for any genuine academic, artistic or scientific purpose'.

Support the Interfaith Paris Climate Statement

Thursday, 03 November 2016 09:36

Condolences on the passing of His Majesty King Bhumibol Adulyadej

Monday, 17 October 2016 20:51

17 October 2016

His Excellency Mr Chirachai Punkrasin
Ambassador Extraordinary and Plenipotentiary
Royal Thai Embassy
111 Empire circuit
Yarralumla ACT 2600

Dear Ambassador,

Please accept the sincere and heartfelt condolences on the passing of King Bhumibol from all member groups and members of The Federation of Buddhist Councils of Australia.

His Majesty King Bhumibol was a great leader of Thailand and the Thai people for seven decades, and used his compassion and wisdom and great leadership skills combined with Buddhist principles to guide the Nation through many challenges. He will surely be deeply missed.

We fellow Buddhists from all traditions in Australia, have deep faith that these guiding principles of Buddha's teachings will endure and continue to light the way of the future for His Majesty's successor.

As you know, there are strong links between people of all faiths in both our countries, but especially within the Buddhist communities, and ethnic Thai communities living in Australia, where exist many long and deep ties which will continue always.

May the memory of the excellent qualities of His Majesty warm our hearts into the future.

Yours faithfully,

(signed)

Cecilia Mitra (LLB Singapore, LLM UWA)
President
Federation of Australian Buddhist Councils Inc.
e: This e-mail address is being protected from spambots. You need JavaScript enabled to view it
w: www.buddhistcouncil.org.au