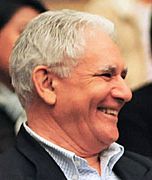 The FABC's Annual General Meeting was held on 27 Oct 2013. Mr Kim Hollow has been re-elected the president.
President Kim Hollow's Report is as follows:
Presidents Annual Report – 1st July 2012 to 30th June 2013
It is again my pleasure to provide details of the Federation of Australian Buddhist Council's (FABC) activities over the past twelve months.
Our elected committee includes two delegates from each mainland state. Individuals are nominated to represent their respective state Buddhist Council interests, on the FABC. Our ongoing engagement with our spiritual leaders from the Australian Sangha Association, (ASA) remains a vital part of our ability to properly function and achieve our goals within the community.
Last Updated on Monday, 28 October 2013 16:43