The Federation of Australian Buddhist Councils is the peak body representing Buddhism in Australia.
The combined membership of the five state Buddhist councils represents more than 200 Buddhist templ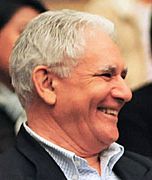 es and organisations nationwide, their members include the majority of more than 400,000 Australian Buddhists.
The FABC works closely with the Australian Sangha Association (the peak body representing ordained Buddhist Australians) developing and promoting Buddhism in Australia and representing Australian Buddhists to national and international forums.
The current FABC President is Mr Kim Hollow (pictured) of the Buddhist Council of Queensland. He is a fourth generation Australian and has been President since 2009.
The FABC Management Committee comprises two delegates from each state Buddhist Council and is structured as follows:
Role

Name

State

President

Mr. Kim Hollow

Qld

Vice Pres. (Hon)

Dr. Mohini Gunesekera (AM)

FABC

Vice President

Dr. Jake Mitra

WA

Treasurer
Mr. Stewart Jarvis


WA

Secretary
Mr. Trevor Robertson


NSW

Members:

Ms. Anna Markey

SA

Mr. Paul Harris

Vic


Mr. Brian White

NSW

Mr. Chee Wong

Qld






Telephone:




Email:

Click here to send email

Address:
Federation of Australian Buddhist Councils
PO BOX 6479
Footscray West, VICTORIA 3012
Australia

ABN:

65 862 613 089